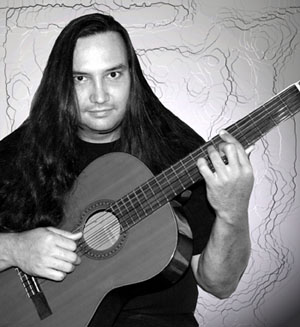 Bart, a native Houstonian, was given his first guitar at the age of 13 but was uninterested in anything but sports at the time. At age 16, a tragic accident left Bart unable to participate in sports any longer and left him heartbroken to never be on the football field again. At the time he was released from the hospital, Bart made a wonderful decision to seek stardom through another avenue… music. While recuperating from surgery for over a year, Bart played the guitar. It was obvious from the first moment that he was a natural.
Musical influences through the years include Gary Moore, Martin Taylor, Bill Connors, Randy Rhoads, and Jerry Lewis. Bart has grown to be an amazing musician that has been recognized for his accomplishments by the Houston Chronicle, the guitar magazine Experience Hendrix, Guitar Player Magazine (1985), Public News, and Music News monthly publications.. past mayor of Houston, Bob Lanier has also recognized Bart and his band Innisfree. Bart competed and became a semifinalist at the 1999, "Jimi Hendrix Electric Guitar Competition" held in New Orleans and was selected as a runner-up in Rockin' Robin's first annual Houston's Best Guitar Contest (1989). Bart competed in the "Kahler Tremelo Contest" and placed 2nd in the nation, which was judged by Steve Vai and Adrian Belew. Also, he won a scholarship to the University of St. Thomas for classical guitar.He has performed at a multitude of venues including: Fitzgerald's, Rockefellers, Reliant Arena, Backstage, City Streets, LiveWire, Cardi's and City Limits. Bart's past experience includes work with the following bands: Venus, Infrared, Spectrum, Rippers Axe and Wattzit2ya.
He currently collaborates not only with In Your Face , but also Innisfree. Innisfree, a band Bart originated, has recorded four cds as well as opened for national acts such as Kansas (COL), sweet F.A. (MCA) and dirty Looks (ATl). Bart has a constant desire to perform and create and is currently working on a CD of original guitar compositions. Music is his life and he never stops trying to improve his style, sound and technique. Bart fills his life with music while sharing that passion with those around him as a successful guitar teacher.
Bart's Equipment List: Bart has been endorsed by Kimaxe guitars (Korean Guitar Co.) for over three years, and has also designed his own model with them called the Bartone. Bart uses Kimaxe's red & green 1270g model with Crate 120gfx with a SansAmp Model PSA-1 & a Rocktron Replifex Guitar Effects Processor. For futher gear listings, check the guitar gallery.